Looking for professional freelance medical Copywriting & Consulting?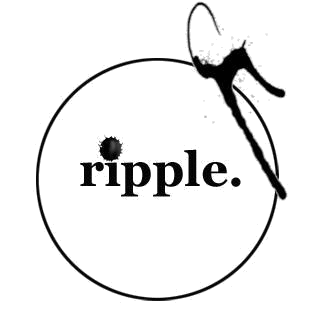 You're in the right place…
With a clinical as well as marketing background, Michelle Ripple is a freelance medical/technical Copywriter, Content Strategist, and Strategic Marketing Consultant with over a decade of experience creating online/mobile and print pieces for medical products, medical devices, nutraceuticals, health products, healthcare services, diagnostics, fertility, pharmaceuticals, biomedical products, ocular, dental, cosmetic injectables, cosmetic surgical procedures, cosmetic implants, surgical, professional training, and high-technology or technical industries.
Michelle quickly becomes the SME (Subject Matter Expert) for any product or service. Her skill-set goes beyond simple content creation and includes Creative Direction, Strategy Recommendations, Interactive/Responsive User Experience Design Consulting, and Marketing/Advertising Consultation.
---
"What's unique about what I offer is that I truly listen to my clients and genuinely care about their businesses and their success. To me, the relationship and the people I work with come first. Almost 100% of my clients are from referrals. To me, that says everything. And I'm grateful. Also, I provide more than just copywriting — I deliver recommendations and best-practices to my clients to help them, not just create content, but to get their investments to perform better to achieve the ROI they are looking for."
---
Michelle Ripple has the experience to deliver: 
strategy & consulting

content and marketing strategy
marketing and advertising evaluation and consulting
media plan strategy recommendations

websites, digital elements, apps, & promotions

content for websites, micro-sites, landing pages, and mobile apps
copy for promotional and contest limited-time websites
site and app information architecture (IA)/site map/user flow diagram creation with strategy recommendations
updating websites directly in WordPress
some HTML coding capabilities
infographics, e-blasts, whitepapers, and blogs

ads & social media

social media ads, posts, and page content
pay-per-click / Google search paid ads and banner ad content

interactive tools & media

copy for interactive online tools, videos, or modules
decision-logics for complex interactive digital tools
storyboards for videos
scripting for videos and voice-overs

SEO

meta-tags and meta-data for SEO
SEO optimization

sales materials

sales detail aids (mobile and print)

print & tradeshow

brochures, booklets, direct mail, etc.
tradeshow collateral and interactive kiosk modules
---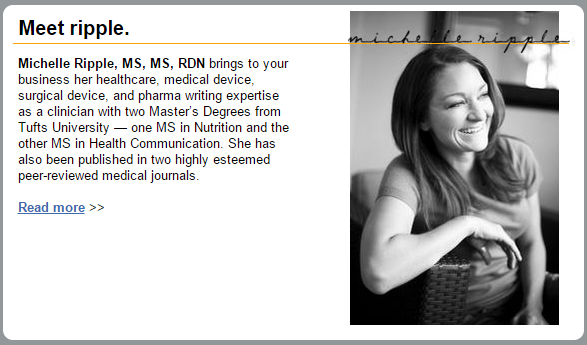 ---
Why ripple? 
She's known for strategic copy development, innovative concepts, scientific acumen, and fast turnaround. She is a strong team player with ad agency teams (often seen as one of the internal team members) during short and long assignments.
---
Clients & Brands
Selected ongoing and past clients and brands: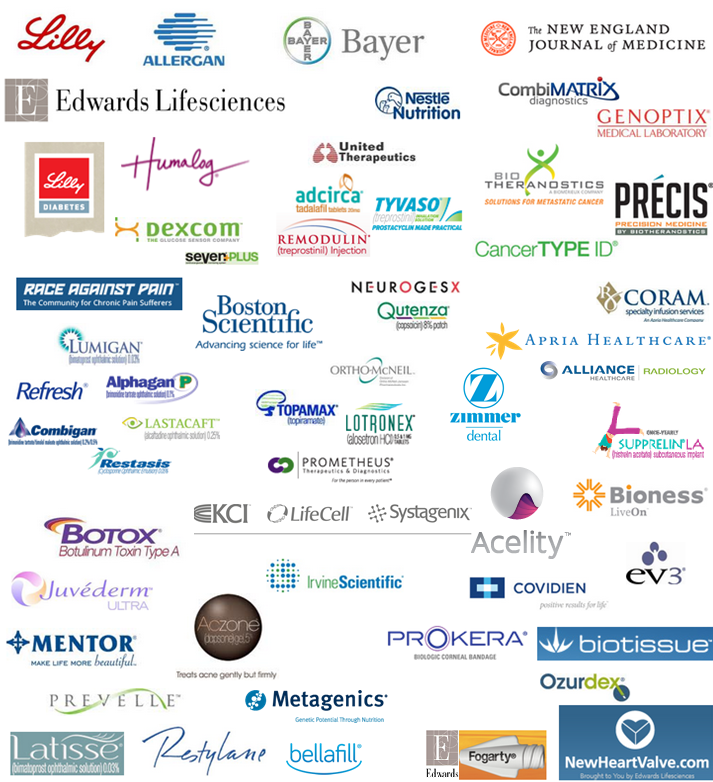 ---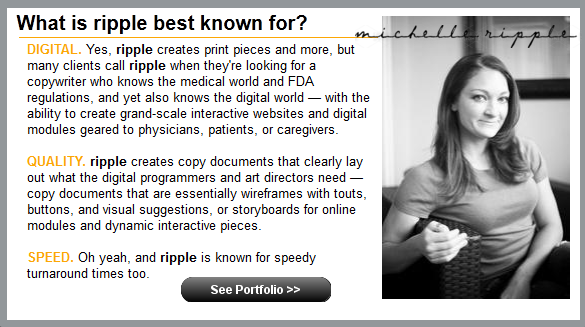 ---